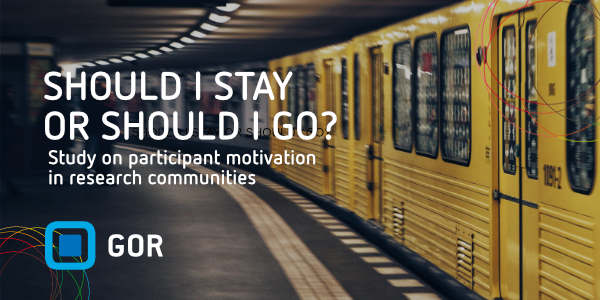 "Should I stay or should I go?" – New in-house study on participant motivation in research communities
September 2020 // On 10 September we will present the first results of our study on research communities at the Online Research Conference (GOR). The aim of the study was to better understand the expectations and motivations of the participants.
When planning and designing medium to long-term online communities, similar questions arise: How can the activity of participants be kept high over a long period of time? How can the cancellation of the project be avoided? What role does the incentive play in motivation? How can research questions be optimally integrated?
In our study, we took a closer look at the participants' perspective and used a three-step approach (questionnaire, community discussions and webcam interviews) to examine in detail the expectations and motivations of members of long-term communities.
At the Online Research Conference (GOR) we will present first results.
"Should I stay or should I go? - Why do participants remain active in market research communities?
Thu 10.9. 11:40-13:00
Track A3.2: Motivation and Participation
Free webinars
Online moderation, digital diaries, focus groups, community planning... In our webinars we introduce new tools and methods, share practical insights and offer suggestions around digital qualitative research and provide inspiration and insights for your research.
Continue to topics and dates