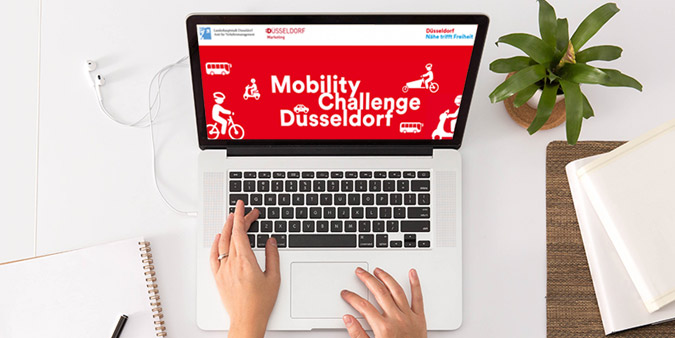 Results of the Mobility Challenge Düsseldorf
March 2023 // Last year, we were pleased to realise the Mobility Challenge for the city of Düsseldorf: 20 Düsseldorfers gave up their cars for four weeks and tested mobility alternatives. During this time, they kept a digital diary and exchanged views on various topics related to sustainable mobility.
Now the city has published an overview of the study and communicated the most important findings to the public: Overall, the study shows that the time without a car of one's own has promoted openness towards alternative mobility offers.
It is particularly good to see that specific tips and suggestions from the participants have been taken up by the city.
The official press release says:
"The wishes and suggestions of the participants will now be taken up by us in a series of precise projects: In the case of cycling, the focus is on the establishment of cycle guidance routes, as well as the expansion of the main cycling network. The construction of eight more bicycle locks is planned as well as the installation of additional cargo bike racks," explains Katharina Metzker, Head of the Office for Traffic Management.

(...) Buses and trains are to become more attractive and more punctual with the Rheintakt project. 13 new bike-and-ride facilities are planned in Düsseldorf and Meerbusch. The Rheinbahn's Redy app is to be expanded to include other providers. After the hints during the Mobility Challenge about the cargo bike station, the service hotline is now available 24 hours a day. The installation of child seats and lockable transport boxes is currently being discussed."
The published results can be read here:
www.duesseldorf.de
And more information about the Mobility Challenge as well as documentation can be found
here
(only in German).
Free webinars
Online moderation, digital diaries, focus groups, community planning... In our webinars we introduce new tools and methods, share practical insights and offer suggestions around digital qualitative research and provide inspiration and insights for your research.
Continue to topics and dates