Mobile Research in the SocialMedia Age - How to Make Study Content User-Friendly
In times of Twitter and Co. the attention span of the media users decreases. This also has an impact on perception and response behaviour in digital research projects. You can read what you should consider when preparing your study content in our practical tip with checklist.


First impressions also count when it comes to digital research
Imagine you are participating in an online focus group or mobile diary study for the first time. You don't know exactly what you're facing or what's expected of you. This makes it all the more important that you feel well supported in the study from the very first contact. The design of the platform as well as the form and content of the introduction and explanation texts are key.
This is particularly true for the increasing number of mobile users - now around 2/3. For a good user experience, the preparation and optimization of content for smaller screens and smaller time contingents is becoming increasingly important.


Web-friendly layout: Please use some color!
The layout of the study platform should be adapted to the topic and target group, e.g. a header or cover picture can be inserted. This is central, because pictures communicate emotions and are more quickly perceived as written words. Take a few minutes to find suitable images or illustrations for your study. This is an easy way to "pick up" the respondents from the first moment and set the mood for the study. Since it is a matter of creating an atmosphere, there are no limits to your creativity. For example, a study on animal feed could be illustrated with different four-legged friends.
The use of some small tricks already has a lot to offer when it comes to layout. If, for example, you make sure that the pictures have a uniform format, the design of your study will appear more harmonious (e.g. do not mix landscape and portrait format).
If you have any questions, please do not hesitate to contact us. We will help you to find suitable image material in the correct resolution.


Welcome respondents online
Every online survey should start with a friendly greeting. A short but personal message contributes a lot to a positive first contact. Perhaps even with a photo of you?
(Mobile) users especially like to watch videos, they guarantee a high level of
attention span. So if you want to make sure that all your information is well received, you might want to try a
welcome video
. It doesn't take much longer to create this than to write down all the information and users will appreciate it.
Don't hesitate to be personal and creative when greeting the participants. Test persons don't want to share experiences with a software, but with a human being.
The more the participants feel that they are valued and addressed personally, the more reluctance and inhibitions are reduced and an atmosphere of open exchange is created.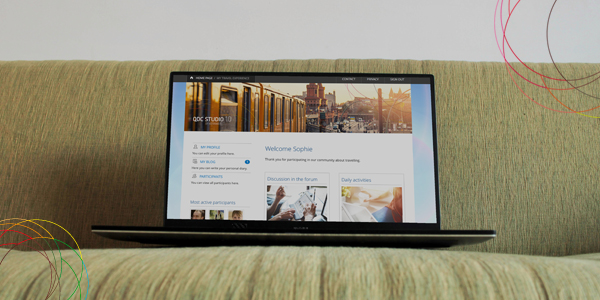 Create a friendly atmosphere in which your participants feel at home

Concise wording and reader-friendly text structure
For all texts on your research platform, including the introduction text, the following applies: Stay clear and do not overload the test persons with too much or too complicated information. For example, consider at what time you give which kind of information. Is this already necessary in the introduction, or should it only be mentioned in the specific task?
It is also possible to simply name contents at first and explain them later. Thus it is possible to structure the reading flow in a simple way and to divide it into small, usable bits instead of presenting the entire information in one big block.


Form and formatting as central design elements
Basically, the same rules apply to the design of digital study platforms that every web designer and blog operator should follow. Speak to the respondents in simple, not too long sentences. Be courageous. Set points. It doesn't hurt. On the contrary. The statements become more concise. The absorption of information increases.
Another trick can also help to achieve a higher receptivity:
Use subheadings for a better overview
The motto here is: The white background has a calming effect.
Use paragraphs and set subheadings. This gives the topics a stronger focus.
You can also use the following elements for a better outline:
or
numberings
Your messages will thus become more manageable. With bold type and underlining you set important highlights to make the central statements of a paragraph easier to identify.
If you have any questions, please do not hesitate to contact us.
Checklist: Styling study content in a user-friendly way
Use suitable images for illustration
Format images uniformly, do not mix portrait and landscape formats
Welcome test persons personally
Use media for greeting: e.g. welcome video or photo
Headlines structure the reading flow
Formulate short sentences
Insert paragraphs frequently
Highlight key messages with underlining and a bold font (e.g. dates)
Divide information into smaller units and only pass it on when it is really necessary.
Important information may/should be repeated